Veterans Oral History Project: Veteran Interviews
May 19, 2023—May 22, 2023
Categories Previous Events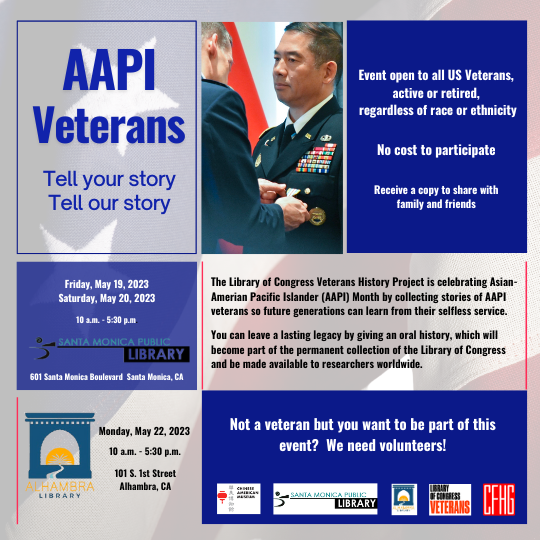 The Chinese Family History Group (CFHG) is proud to announce its collaboration with the Library of Congress to bring the Veterans History Project to Santa Monica and Alhambra. Andrew Huber (liaison specialist at the Library of Congress), who has presented to the CFHG before, will be actualizing his talk in-person at these interview events!
The Library of Congress Veterans History Project is celebrating Asian-American & Pacific Islander Heritage Month by collecting stories of AAPI veterans so that future generations can learn from their selfless service. This is a unique opportunity for our community's veterans in Southern California to share their memories and stories, and to contribute to the preservation of our nation's history.
There is no cost to participate, and all veterans who tell their story will receive a copy to share with their family and friends. AAPI veterans are especially encouraged to participate, however the event is open to all US vets regardless of race or ethnicity.
By participating in this project, you (veterans) will have the chance to have your experiences recorded and preserved for future generations. Your stories are invaluable and provide a deeper understanding of the struggles and triumphs of our veterans.
You can leave a lasting legacy by giving an oral history, which will become part of the permanent collections of the Library of Congress and made available to researchers worldwide.
If you're not a veteran, but want to volunteer and help out, please sign up!
This event is sponsored by Rep. Ted Lieu (D-CA, Dist. 36), supported by Rep. Judy Chu (D-CA, Dist. 28), endorsed by City of Alhambra Mayor Adele Andrade-Stadler (Dist. 5), is being hosted at/by the Santa Monica Public Library (Main Branch) and the Alhambra Civic Center Library, and is in collaboration with the Chinese American Museum in Los Angeles (CAM-LA).