The mission of the Chinese Family History Group is to inspire and empower Chinese Americans by connecting them to their immigrant family history through research and education.
Resources
Research Tips, Tools, Techniques and more…
Resources
Tips for starting your search, finding historical records, documenting and preserving the experiences of your ancestors.
Events
Distinguished Speakers, Presentations, Networking and more…
Events
Enhance your research
with keynote speakers,
webinars, meetings
and more. 
Membership
Join our community to learn, share and more...
Membership
Become a member and gain access to the Guide for Researching Your Chinese Family History and our recorded webinars and meetings.
Message from the President
A Message from Evelyn Wong Lee, President
Growing up I would listen to my father share stories of his childhood in Taishan and his journey to America. I was always amazed at how much he also knew about his grandfather and great-grandfather's journey to America.  In early 2012, I was encouraged to write and record these tidbits of information otherwise, "It would be forgotten, and no one will ever know the stories".  My interest in my family's legacy led to discovering the Southern California Genealogical Society and thus began my involvement in what has become the Chinese Family History Group of Southern California.
Retiring in 2020 as an educator, I looked forward to volunteering with this organization.  The group has grown significantly from a small local interest group into an international, non-profit organization, and I am honored to be your president. As we look toward the future, I want to reshare our goals to continue to educate our community, utilize technology to further research, and grow membership and volunteer opportunities across the organization.  
If you're a visitor, please take a look at the different resources available on our website.  We invite you to join us for one of our free webinars, which we hope will inspire you to continue your research. Please consider joining our organization and supporting our efforts through membership or a donation. We want to keep Chinese family histories alive, and through the financial support of our members and generous donors, we're able to continue our efforts.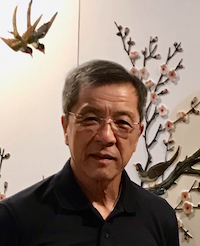 Chuck Woo is affectionately known as our favorite spotlighter to the Programs team!   His quiet demeanor, easy going temperament, and dedication to this group is much appreciated.  
Chuck has been an officer of the Chinese Family HIstory Group, having been the first Treasurer, as the group became a nonprofit organization in 2018 until 2021.  As much as we miss Chuck on the board, his dedication and love of being Yeh Yeh is first and foremost what we want for him.
How did you learn about the Chinese Family History Group?
It's been five or six years now, I don't quite remember if someone told me about this group or I found it on a search, but I wanted to learn more about genealogy and I first attended a meeting in Chinatown on Bamboo Lane.
How long have you been researching your family history and what got you interested?
In 2014, I went to China with my sisters and their families.  In total, there were 22 of us. The trip was arranged by a travel agency. We wanted to visit the must see places in China, Beijing, Shanghai, Xian, but we also added a trip to visit our ancestral villages in Hoiping and Toisan.  We flew from Los Angeles directly to Guangzhou and were met with a driver and a van and drove directly to my wife's ancestral home in Hoiping where we spent about 2 ½ hours exploring not only the home but the four story dialou of the village.  
After that, we drove to Toisan and to my parents' home, which had been opened for us.  We were greeted by the chickens that are currently housed there.
It was this trip that spurred my interest in learning more.  There were people who helped tell me the names and Chinese characters of my ancestors before my grandparents.