The Chinese Family History Group of Southern California's mission is to inspire and empower Chinese Americans by connecting them to their immigrant family history through research and education.
Resources
Research Tips, Tools, Techniques and more…
Resources
Tips for starting your search, finding historical records, documenting and preserving the experiences of your ancestors.
Events
Distinguished Speakers, Presentations, Networking and more…
Events
Enhance your research
with keynote speakers,
webinars, meetings
and more. 
Membership
Join our community to learn, share and more...
Membership
Become a member and gain access to the Guide for Researching Your Chinese Family History and our recorded webinars and meetings.
Message from the President
A Message from Michelle Jong, President
Welcome to the Chinese Family History Group of Southern California!
My mother told me long ago that when you get older, time goes faster.  When I was working, I was so busy I couldn't imagine time going even faster.  As I am in the ninth month of being President of the Chinese Family History Group of Southern California, I cannot believe how fast time has gone by and all of what has occurred in the world.  When I started my term, we were six months into the pandemic and two months into virtual programming.  Even with all the changes going on in our world, our team of volunteers, led by Evelyn Lee,  wanted to tackle updating our website, which I am proud to introduce to you.  The women involved with the development of the new website wanted to highlight who we are as an organization and give you the essence of what we do by providing you with the best research tools in a format which is easy to use.
We are introducing ourselves to you by highlighting our volunteers,  giving you a research guide which will help you in your family research, and introducing topics in a blog you may not know you were interested in.  It is a website that can grow with us and continue to provide you inspiration to start, continue and document your story.
Our library continues to grow with our virtual programs.   Our organization prides itself in spotlighting our presenters' gift of educating Chinese genealogy research.  In our collaborative effort to give you the best, our presenters have become part of our family and your community.  We have been fortunate to share these efforts with an audience far beyond the Southern California area.  Our organization is now international and I am thankful to you and for all of our supporters who have expressed to us their appreciation.  Your feedback and kindness is why we continued to work so hard from our homes.  As the country begins to emerge from the lockdown, so will we.  We will adapt again to new challenges and circumstances that are presented.
I believe the most important message that I have learned from these last eight months is how important it is to tell your story.   I, like you, always knew the importance of storytelling, it is part of our mission.  To find my story is why I started with this organization five years ago.  With the anti-Asian hate which continues,  the need to tell our story is now amplified.  It is IMPORTANT to tell your story.  To educate others of the struggles and obstacles overcome by our ancestors.  To frame it in the context of what was happening in a history often not found in books and just starting to be revealed to the masses.  Researching and telling our family history to our relatives is now a minimum requirement.  It is past time to share these stories with others.  Don't leave it to others to tell your story.  It is our voice, our words.  
I believe the journey we take in researching our family history is as important as what you find.  It is not an easy task, some of us start with very little information.  Language and dialects, different cultural norms, modesty of accomplishments and hesitancy to reveal hardships, are some of the common obstacles we face when looking into the pasts of our families.  This difficulty is also what bonds the people who make up this organization.  We celebrate each other's discoveries, empathize with those just beginning their journey, and appreciate those who have a gift of sharing what they have learned.
We encourage you to join our community, ask the questions you may have, you will find yourself like me, giving back to the organization who helped you along the way.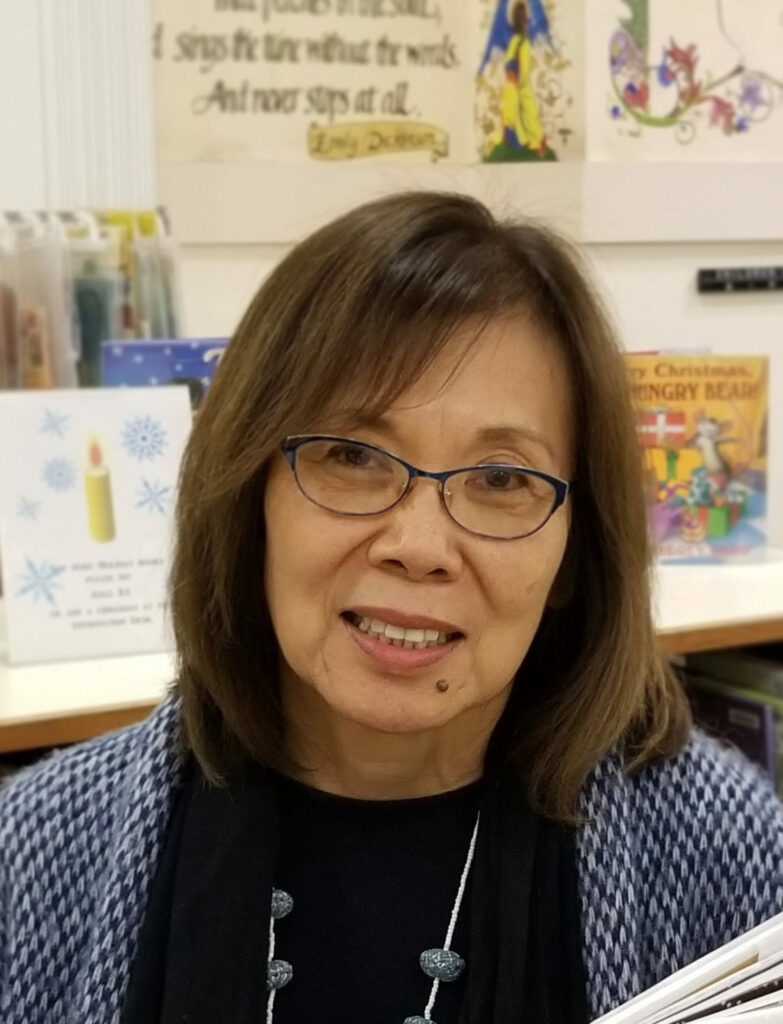 Inaugural Chairperson 2014-2016
I am a 4th generation Californian and a 6th generation Chinese American who grew up in the San Fernando Valley. I knew little of my family background and was quite isolated from most of my extended family who did not live in California. What inspired me to start researching my family history was a family reunion in 1998 which was the culmination of some diligent detective work by my cousins.