The mission of the Chinese Family History Group is to inspire and empower Chinese Americans by connecting them to their immigrant family history through research and education.
Resources
Research Tips, Tools, Techniques and more…
Resources
Tips for starting your search, finding historical records, documenting and preserving the experiences of your ancestors.
Events
Distinguished Speakers, Presentations, Networking and more…
Events
Enhance your research
with keynote speakers,
webinars, meetings
and more. 
Membership
Join our community to learn, share and more...
Membership
Become a member and gain access to the Guide for Researching Your Chinese Family History and our recorded webinars and meetings.
Message from the President
A Message from Patrick Chew, President
Hello, one and all.
Happy 2023!
My name is Patrick Chew, and I'm the Chinese Family History Group's new President-elect. First and foremost, I want to state that it is an absolute honor and privilege to have been considered for nomination, as well as to be elected to take on the duties to help maintain and grow the organization.
Last year in August 2022, the organization celebrated its 10-year anniversary, celebrating the humble origins as a small group of like-minded individuals meeting in person and working on their family history research, which has grown to an organization with a much broader scope, reach, and mandate. As incoming president, I'm looking forward to working with the rest of this year's Board—Monica Lỹ (Vice-President), Kitty Lew (Secretary), and Vicky Lowe (Treasurer)—to implement processes and procedures to scale and grow the organization in a sustainable manner, while paying homage to the org's humble roots by still continuing to foster the human networking and interconnectivity that underlies all family history.
I would also like to extend New Year greetings for this Year of the Black Water Rabbit! Wishing all continued good health, sustainable successes and prosperity, and healthy happiness!
新年快樂,恭喜發財;玉兔呈祥家家樂,龍裔兆瑞步步高|玉兔呈祥家家乐,龙裔兆瑞步步高。
Happy New Year; Gung-hei faat-choi / Gōngxǐ fācái. May the Jade Rabbit offer up auspiciousness, with every family joyous; May the Dragon's descendents enjoy auspicious times, with every step higher and higher!
희망한 계묘년 새해 복 많이들 받으시고 새해 날마다에도 행복하게 보내고 관심과 성원을 부탁드립니다.
Wishing you a Happy New Year in this Year of the Rabbit, and spend every day of the New Year happily. Thank you for your interest and support this year.
Năm mới đến rồi, chúc bạn mạnh khỏe, nhiều niềm vui, vững bước trên con đường phía trước, nghìn sự như ý, vạn sự như mơ, triệu sự bất ngờ, tỷ lần hạnh phúc.
The new year has arrived! Wishing you good health, lots of joy, steadiness on your road ahead, a thousand things as you wish, everything as a dream, a million surprises, a billion times of happiness.
皆様のご健康とご多幸を心ようお祈り致します。旧年中のご厚誼に深謝致しますとともに本年もどうぞ宜しくお願い申し上げます。
We wish you all the best in your health and happiness. We would like to express our sincere gratitude for your kindness in the past year and look forward to your continued support this year.
With warmest New Year wishes,
-Patrick Chew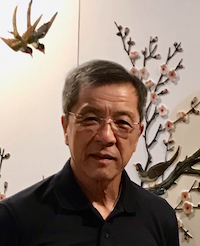 Chuck Woo is affectionately known as our favorite spotlighter to the Programs team!   His quiet demeanor, easy going temperament, and dedication to this group is much appreciated.  
Chuck has been an officer of the Chinese Family HIstory Group, having been the first Treasurer, as the group became a nonprofit organization in 2018 until 2021.  As much as we miss Chuck on the board, his dedication and love of being Yeh Yeh is first and foremost what we want for him.
How did you learn about the Chinese Family History Group?
It's been five or six years now, I don't quite remember if someone told me about this group or I found it on a search, but I wanted to learn more about genealogy and I first attended a meeting in Chinatown on Bamboo Lane.
How long have you been researching your family history and what got you interested?
In 2014, I went to China with my sisters and their families.  In total, there were 22 of us. The trip was arranged by a travel agency. We wanted to visit the must see places in China, Beijing, Shanghai, Xian, but we also added a trip to visit our ancestral villages in Hoiping and Toisan.  We flew from Los Angeles directly to Guangzhou and were met with a driver and a van and drove directly to my wife's ancestral home in Hoiping where we spent about 2 ½ hours exploring not only the home but the four story dialou of the village.  
After that, we drove to Toisan and to my parents' home, which had been opened for us.  We were greeted by the chickens that are currently housed there.
It was this trip that spurred my interest in learning more.  There were people who helped tell me the names and Chinese characters of my ancestors before my grandparents.