Organizing Chinese Genealogy with Linda Yip
Mar 19, 2022 10:00AM
Event Contact Email
Categories Previous Events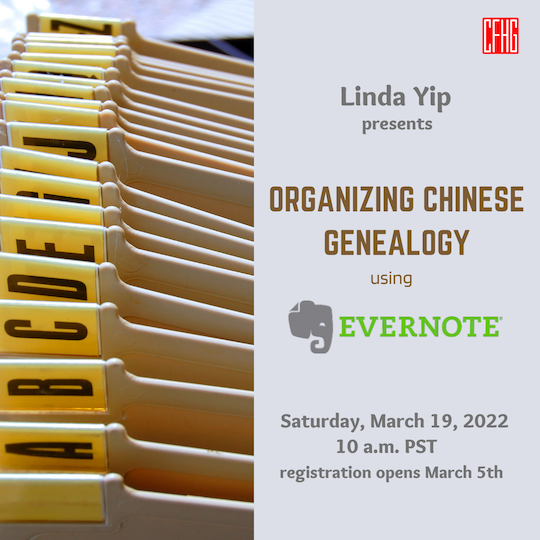 Are you afraid to close your browser for fear of losing something important? Ever filed something away carefully on your computer in a folder, never to see it again? Is your desktop a mass of random documents you put there so you could find them again? Want to learn a better way of handling the things you find? Linda uses a program so good you'd think it was made for genealogy.
Linda has worked with every combination of paper and electronic file organization imaginable. What she's learned is, there's no wrong way to file and the best system is what works for you. She will introduce you to Linda's Five Rules of Filing, how using Evernote made her a better genealogist and how you too can organize your genealogy using Evernote.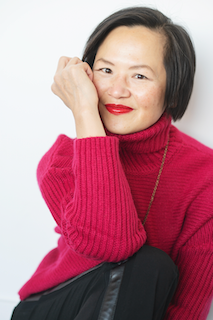 Linda Yip is an author, storyteller, and speaker to businesses, colleges, non-profits, and societies in Canada and the United States. She's been featured on multiple occasions on CBC Radio; newspapers such as the Toronto Sun, Sing Tao Daily, and The Tyee. A member of the Ancestry Advisory Board of Canadian Genealogists and the Association of Professional Genealogists, she is currently working on accreditation through the International Commission for the Accreditation for Professional Genealogists (ICAPGen). Her blog, Past–Presence.com, has been read by over 200,000 people in 182 countries. Her personal library of electronic material is in excess of 20,000 notes and 40,000 images and to keep up with all of this, Linda leverages her favorite software tools: Evernote and Asana.