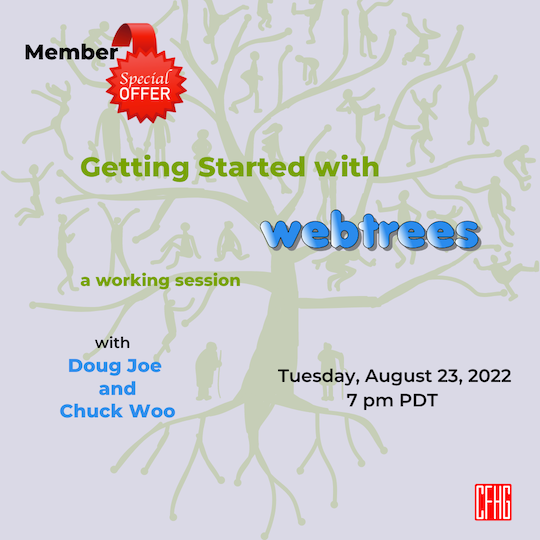 We hope you enjoyed Doug Joe's very informative presentation on the webtrees tool on July 9th. (Login to view the recording) As announced at the webinar, Doug generously offered two Chinese Family History Group members exclusive follow-up events.
The first is a one-on-one sessions with users to begin exploring webtrees capabilities. Many of our members have already taken advantage of this opportunity. If you haven't already done so, you can still contact Doug at doug.joe@chinesefamilyhistory.org to help you get started. As a reminder, your family tree can be hosted on the Chinese Family History Group's secure server for free!
The second is an interactive hands-on meeting which will be held on Tuesday, August 23rd at 7:00p.m. PDT hosted by Doug and previous CFHG Treasurer, Chuck Woo. Doug will share his 20+ years of experience on the webtrees tool and Chuck will share his recent experience with the tool in building his family tree with 300+ individuals. They will answer your questions and give valuable tips and tricks to assist you in building this part of your genealogy journey.