Are You Ready for the 1950 Census?
Apr 22, 2022 7:00PM
Categories Previous Events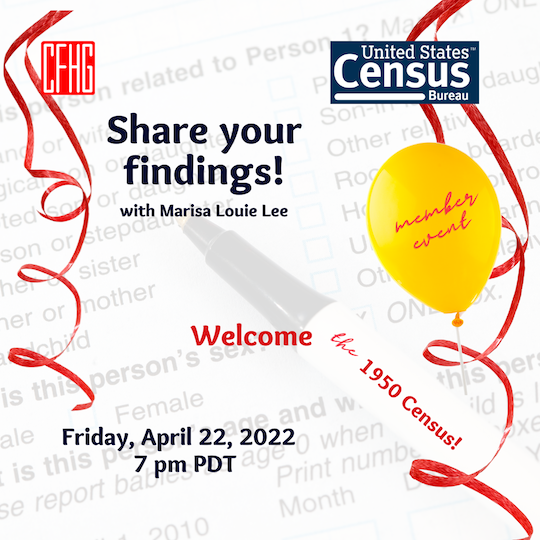 Have you found yourself or family members in the 1950 Census records? Join us on Friday, April 22, 2022 at 7pm PDT as Marisa Louie Lee will share her findings on the 1950 US Census.
The Chinese American population increased from 77,504 in 1940 to 117,629 in 1950– a time of enormous growth after many decades of Chinese Exclusion. This was partly due to the War Brides Act, which enabled the alien spouses of United States service members and their children to immigrate. They were allowed to do so as "non-quota immigrants", outside of the narrow quota put in place after the repeal of the Chinese Exclusion Act in 1943. Perhaps your mothers or grandmothers are among the thousands of war brides who came in the late 1940s.
The official 1950 census website for the National Archives is at:
https://www.archives.gov/research/census/1950
Access Marisa Louie Lee's Handout of Tips and Tricks:
Marisa Louie Lee has been our guest speaker several times and is a contributing member of our organization. Marisa is a freelance researcher who specializes in federal government records and Asian American history and genealogy. Not only has she conducted workshops for our group, but she has also been an instructor for the Salt Lake Institute of Genealogy, the Southern California Genealogy Society's annual Jamboree, the California Genealogical Society and the Nikkei Genealogical Society. She is also an alumna of the Roots program, where she explored her own roots both within the US and in China.
Marisa previously worked for the National Archives in San Francisco so is intimately familiar with, not only the holdings of the Archives, but also how to navigate both in-person research at the Archives and the online databases available to us. These are the topics that she will address today.