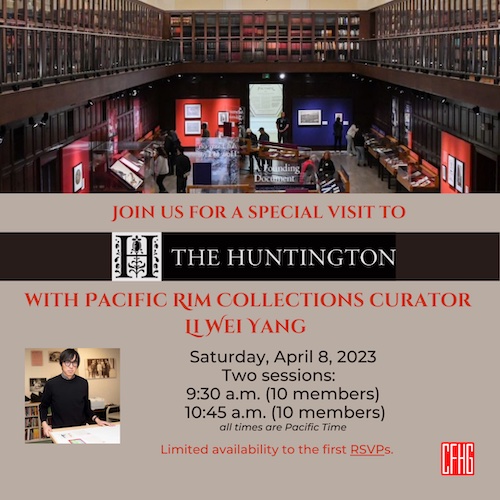 We started off our 2023 year with an unforgettable visit to The Huntington on April 08, 2023! Our paying Members had the opportunity to explore a specially selected, unparalleled collection of rare books, manuscripts, and photographs related to Chinese-American and Chinese in the Diaspora history.
They were led by our expert curator, Li-Wei Yang, who will provide fascinating insights into the significance and relevance of the materials on display. They gained a deeper understanding of the experiences of Chinese immigrants and their contributions to American society, as well as the challenges they faced as they established their lives in a new country.
There were two scheduled times for a one hour tour, 9:30 am PDT and 10:45 am PDT. To give the best experience for this special tour, there was, unfortunately, limited availability—10 individuals per tour session. There was no cost for the tour and parking. Saturday hours for The Huntington are 10:00 am – 5:00 pm. Participants explored The Huntington and its other treasures, including the must-see Chinese botanical gardens, when they were not on the tour.
This was a unique opportunity to explore The Huntington's collection and discover the rich history of Chinese-Americans and Chinese in the Diaspora. For those who were unable to attend, we will have other in person and virtual events planned for the rest of the year.