It is extremely important to put your family history in the context of what was happening in China, the United States and locally. This may give you clues as to why your ancestor immigrated to the United States; what conditions were like when they first settled down; what challenges they faced; why your original family home was deeded to your father instead of your grandfather and why your last name in English is different from the Chinese character. These and many other questions might be partly answered by researching what was happening during critical events in your ancestors' lives.
Timeline of Events Impacting Chinese American Immigration and Chinese American Lives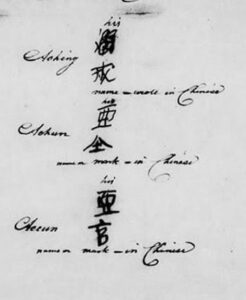 On August 9, the first three documented Chinese men landed in the port of Baltimore. Ashing, Achun and Aceun, from Guangzhou were sailors on the merchant ship, Pallas, which docked in Baltimore, MD. Stranded in the U.S., their signatures appear on Continental Congress records in a petition requesting to be sent home.
Naturalization Act of 1790
The Naturalization Act of 1790 restricted citizenship to "free white persons" of "good moral character." Racial minorities were limited in their citizenship, voting, residency, jury duty, property rights, and family rights.
First U.S. Census notation of Chinese in America recorded three Chinese living in the United States.
First Opium War
Concluded by Treaty of Nanking, which ceded Hong Kong to the United Kingdom in perpetuity. The treaty ports of Shanghai, Canton, Ningpo, Fuchow, and Amoy were established with British extraterritoriality. Unemployment, taxation, banditry and opium addiction greatly increased under British Imperialism.
Mexican American War
Mexico ceded California, Nevada, Utah, most of Arizona, half of New Mexico, and parts of Colorado and Wyoming to the United States.
Credit crush in Guangdong caused financial crisis.
The Gold Rush of 1849
When gold is discovered at Sutter's Mill in 1848, the lure of economic prosperity aboard encourages tens of thousands of Chinese to emigrate to the U.S., most of them coming through San Francisco, but also settling in Sacramento and Marysville.
California Statehood
U.S. Census recorded 2 Chinese servants: Ah Fou and Ah Luce in Los Angeles.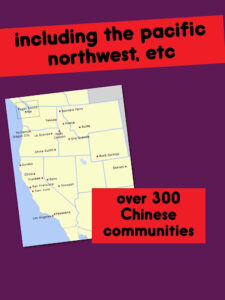 Beginning of Chinatown, San Francisco with 200 Chinese on Clay Street. By the 1900s, there were 300 Chinatowns all over the western United States.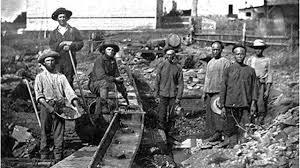 25,000 Chinese came to California to look for gold.
Taiping Rebellion
World's largest rebellion, an estimated 20-40 million died. The devastation caused by scorched earth policies of Manchu and Imperialists create massive famine.
14 serious earthquakes, 4 typhoons, 2 severe droughts, 4 epidemics, and 5 great famines occurred in China.
First Chinese 5-year contract workers arrive in Maui, Hawaii, from Guangdong and Fukien provinces.
Poor harvests and dismal trade in Guangzhou. Serious crop failures in Guangdong. 20,026 Chinese immigrated to the U.S. by way of San Francisco.
California Supreme Court (CSC) decision, People v. Hall, ruled that Chinese cannot testify in court. This ruling established that Chinese had no right to testify against white citizens. The CSC reversed the murder conviction of a white miner in the death of a Chinese man. Three Chinese men had given testimony. The ruling effectively made white violence against Chinese un-prosecutable.
16,084 more Chinese emigrated to join the Gold Rush.
Bombing of four Barrier Forts on the Pearl River, Canton (Guangzhou) and its harbor by United States ships at the beginning of the Second Opium War, which resulted in the capture of Canton and hundreds Chinese army combatants killed by American forces.
Second Opium War
British and French goals of legalizing opium, expanding the coolie trade, opening all of China to foreign trade, exemption of foreign duties on all trade within China are realized in the Treaty of Tientsin (Tianjin).
Punti-Hakka Clan War
A twelve-year war centered in the Pearl River delta over land scarcity results in a million deaths. An estimated 100,000 in Taishan and 100,000 others in Enping, Kaiping, Xin Hui and Heshan, either died or departed. 
California legally prohibited Chinese and "Mongolian" immigration, but this law was immediately ruled unconstitutional.
U.S. Civil War
There are records of Chinese Americans who fought in the U.S. Civil War. 
Anti-Coolie Act
Signed by President Lincoln, the act prohibited the importation of Chinese "coolies" by American citizens on American vessels.
Chinese Six Companies founded. Six different Chinese district associations in California were established to protect businesses and immigrants' safety.
Central Pacific Railroad Co.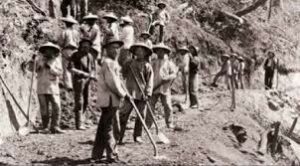 Central Pacific Railroad Co. recruited thousands of Chinese men to work on the first transcontinental railroad.
Pacific Mail Steamships initiated routes to San Francisco, Yokohama, Shanghai and Hong Kong.
United States and China ratified the Burlingame-Seward Treaty, which sanctioned mutual emigration between the two countries. Qing Government legalized emigration of laborers from China.
First Transcontinental Railroad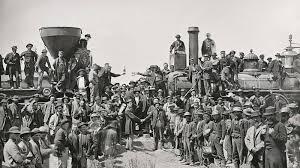 First Transcontinental Railroad completed on May 10, 1869. 11,000 workers were from China, but were left out of the historic Golden Spike photo.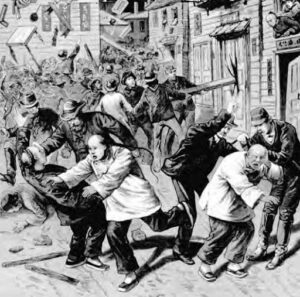 Congress approved the Naturalization Act for persons of African descent, but barred other non-whites, including Chinese, from obtaining U.S. citizenship. It also prohibited wives of laborers from entering the U.S.
Chinese migrants constituted 25% of the labor force in California.
Chinese Massacre on October 24 in Los Angeles Chinatown resulted in the deaths of 17 Chinese by a mob of 500. 
Congress passed the Page Act, which bars Chinese, Japanese, and "Mongolian" prostitutes, felons, and contract laborer immigration or other "undesirables." The effect was the exclusion of Chinese women who were not the wives of merchants.
Completion of the Southern Pacific Railroad linking San Francisco with Los Angeles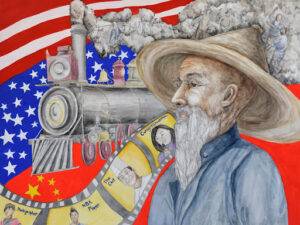 Image: "Tracks to Success" by Kayla Jang, 2019 (Courtesy of CAM & CACA)
An estimated three thousand Chinese built 18 tunnels and 10 bridges over the Tehachapi Mountains and through deserts and created the 6,966.5 foot San Fernando Tunnel, which is still in use today.  Hundreds of Chinese moved to Los Angeles to complete the rail line.
In the Ah Yup case, a federal district court in California ruled Chinese ineligible for naturalized citizenship.
A drought-caused famine in China lasted 2 years and killed 13 million Chinese.
California Anti-miscegenation Law passed. 
25% of California's workers were Chinese.
United States and China signed a treaty that allowed the United States to limit Chinese immigration. Immigration processing took place at Pacific Mail Steamship Company shed at Pier 40 in San Francisco until early 1910 when the Angel Island Immigration Center opened.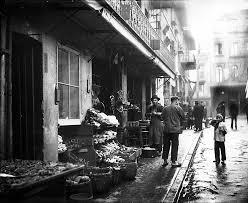 "Old Chinatown" established in Los Angeles in the area around Alameda and Macy Streets (now Cesar Chavez Ave). 
Charles Crocker contacted Henry E. Huntington, who contracted ships to transport 8,000 Chinese to the U.S.
Chinese Exclusion Act
The Chinese Exclusion Act halted Chinese laborer immigration for 10 years; however, certified merchants, students, and itinerants could be exempted. Also denied Chinese from becoming naturalized U.S. citizens. If Chinese left the U.S., they had to obtain certification to re-enter prior to leaving or upon return.
The Six Companies changed their name to the Chinese Consolidated Benevolent Association (CCBA).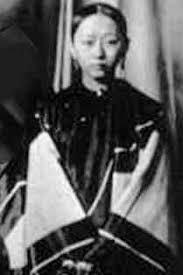 Supreme Court held that wives of Chinese laborers couldn't enter the U.S.
Wyoming's Rock Springs Massacre
Twenty-eight Chinese laborers were killed, fifteen wounded and countless others were driven out of town.
Chinese population in Hawaii numbered 5,000 of which 49% were plantation workers, comprising 20% of Honolulu's population.
Pasadena, California. Mobs forced Chinese out of business district.
U.S. Supreme Court decision, Yick Wo v. Hopkins, ruled that racially neutral laws that are enforced with racial discrimination violate the 14th Amendment. Yick Wo has been cited in over 150 Supreme Court cases since the ruling.
Chinese vegetable vendors in Southern California boycotted by refusing to sell vegetables to households that had discharged their Chinese servants.
Original Chinese quarter in Los Angeles burned by arsonist. New buildings constructed near the Plaza.
Massacre at Hells Canyon, Oregon
34 Chinese gold miners were gunned down by a gang of horse thieves along the Snake River on the Oregon side of the border.  Although one thief confessed, there were no convictions.
Scott Act declared over 20,000 Chinese laborers' re-entry permits null and void.
U.S. Supreme Court upheld the constitutionality of the Chinese Exclusion laws in Chae Chan Ping v. United States.
The Chinese numbered 107,488 of the total U.S. population of 62.9 million.
In Los Angeles, the Chinese Consolidated Benevolent Association (CCBA) is formed in the Garnier Building to advocate political and social advancement.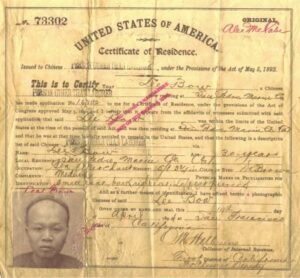 Geary Act extended the Chinese Exclusion Act for another 10 years and required all Chinese residents to carry Certificates of Identity or Certificates of Residence or face deportation.
Certificate of Residence 1994- There was mass disobedience: 103,000 Chinese refused to register. Challenged in court as unconstitutional but the Chinese lost. 
In Fong Yue Ting v. United States, the U.S. Supreme Court ruled that Congress had the power to expel the Chinese.
Qing government lifted ban against emigrants who wished to return to China.
National Guard called to end anti-Chinese riots in Redlands, California. Expulsions of Chinese occur in Southern California towns of Norwalk, Burbank, Vernon, Cahuenga Valley and Pasadena by local citizens.
Sino Japanese War
Japan's victory showed Qing dynasty's failure to modernize its military. Korean Peninsula ceded to Japan.
Abortive First Guangzhou Uprising organized by a Hong Kong Group; Sun Yat-sen and Yeung Ku-wan are forced to leave China and Hong Kong. Sun Yat-sen went into exile and raised funds.
U.S. Supreme Court in U.S. vs Wong Kim Ark, who was born in the United States, was wrongly divested of his citizenship. Ark was initially denied entry due to the Exclusion Act. The case ruled that U.S.-born Chinese cannot be divested of their citizenship according to the 14th Amendment.
Congress passed joint resolution excluding Chinese laborers from entering Hawaii.
Honolulu, Hawaii Chinatown quarantined due to bubonic plague and destruction by fire.
Boxer Rebellion
The rebellion against the eight Nation Alliance/Imperialists and Christian influence led to the defeat of the Boxers and further weakening of the Qing Dynasty. Yeung Ku-wan was assassinated by Qing agents in Hong Kong.
120,000 Taishanese in America (1/4 of Taishan's population)
San Francisco Chinatown: A 3½ month quarantine was imposed although no evidence of bubonic plague was found. 
Congress renewed the Chinese Exclusion Act and eliminated an expiration date. 
Immigration officials and the police raided Boston's Chinatown and without search warrants arrested 250 Chinese who were not carrying registration certificates.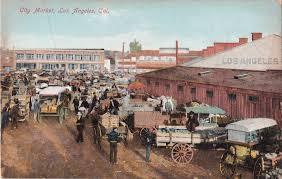 Photo of City Market, Los Angeles
A second Chinese settlement in Los Angeles developed around 9th and San Pedro as Chinese farmers transitioned from truck farming and produce peddling to wholesale produce businesses. The Los Angeles Market was built in 1904. In 1909, The City Market at 1057 So. San Pedro Street was incorporated.
California's Civil Code forbade intermarriage between whites and "Mongolians."
Great San Francisco Earthquake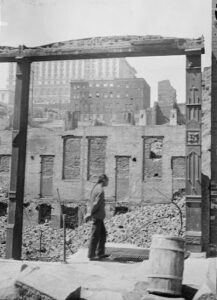 Great San Francisco Earthquake destroyed immigration records. Opened the opportunity for a new surge of Chinese immigrants. "Paper sons" could now claim, due to the loss of official records, that they were U.S. citizens and thus had the right to bring family members to America.
U.S. government creates the Bureau of Immigration.
Santa Ana Chinatown burned down by city to "prevent" spread of plague.
Expatriation Act
This act stripped native-born women of their nationality when they married a foreigner.  (An 1885 act had granted derivative citizenship to foreign-born women who married a U.S. citizen.)
Procedures for interrogation of Chinese entering the U.S. were provided for in Regulations Governing the Admission of Chinese.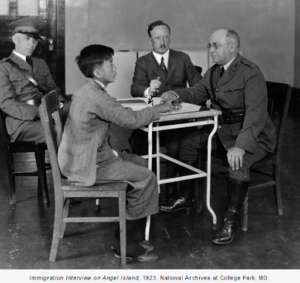 Angel Island Detention Center opens to examine potential Asian immigrants. The majority of them were Chinese immigrants. (11-30% of immigrants were refused entry into the U.S. and returned to China.)
Manchu Ching Dynasty overthrown. Republic of China established, headed by Sun Yat-sen.
California Alien Land Laws declared that persons ineligible to become citizens of the U.S. were prohibited from owning land. In 1920, a new Alien Land Law was passed which stated that if a person purchased land under another's name, it was presumed that this was done with intent to bypass the Alien Land Law.
World War I. Asian veterans receive the right of naturalization.
Global Influenza Pandemic kills 50 million people with 49,000 in the United States.
7.2 earthquake in Guangdong.
Chinese Communist Party (CCP) was formed with Mao Zedong as leader.
Cable Act or Women's Citizenship Act reversed prior laws for all women citizens marrying foreigners except those who married Asian aliens.
You Chung (Y.C.) Hong is the first lawyer to practice in Southern California. For over 50 years, Y.C. worked to repeal the Chinese Exclusion Act and to assist Chinese family reunification through immigration.
Asian Exclusion Act, part of the Immigration Act of 1924 (Johnson-Reed Act), excluded all Asian laborer immigrants from entering into the United States. Those possessing at least a master's degree are allowed to immigrate.
U.S. Border Patrol was created as an agency under the Department of Labor to regulate Chinese immigration to the United States across the U.S.-Mexico border.
U.S. Supreme Court - Chinese wives of American citizens are denied entry. Wives of non-citizen merchants could enter and be granted permanent residency, but not become citizens. If married before May 16, 1924 alien spouses could enter. American born women married to aliens reacquired lost citizenship.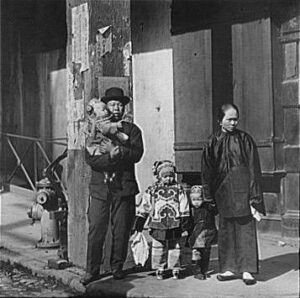 Famine killed 6 million Chinese.
Global Depression follows U.S. Stock Market Crash.
Congress amended the 1924 act by providing for admission of Chinese wives who had been married to American citizens before May 26, 1924.
Major flood of the Yangtze River kills 3.7 million people.
Japanese invaded Manchuria.
Public Law 162 granted several hundred Asian veterans who served in the United States Armed Forces during World War I the right to apply for United States citizenship through naturalization.
150 Chinese women garment workers strike for 3 months against the National Dollar stores owned by a Chinese.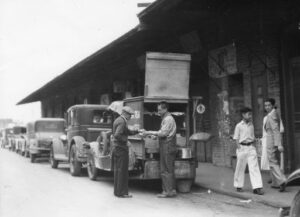 Photo from LA Public Library
"Old Chinatown" in Los Angeles was razed to make room for the construction of Union Station. Many merchants moved west to New Chinatown and to China City, both established in 1938.
Japan Invasion of China. Second Sino-Japanese War.
U.S. government closed the Angel Island Detention Center.
World War II. The United States declared war against Japan after the Pearl Harbor attack.  Japan captured Hong Kong in December 1941.  
There was a severe food shortage in Taishan; drought in 1943, followed by famine. 200,000 Chinese died in the war: half due to starvation; half were casualties of war.
Magnuson Act of 1943, better known as the Chinese Exclusion Repeal Act, rescinded the Chinese Exclusion Act of 1882, thereby allowing Chinese immigrants to obtain citizenship status. It established an immigration cap of 105 Chinese allowed to immigrate annually and consolidated the prohibition of property or business ownership by ethnic Chinese. 
China and the United States became World War II allies against Japan. The U.S. Army drafted over 20 percent of Chinese American men living in the United States.
Photo from Library of Congress
Madame Chiang Kai-Shek (Soong Mai Ling) addressed the U.S. Congress on February 18, 1943.
September 2: The Japanese signed the official surrender ending WWII.
War Brides Act passed on December 28, which permitted immigration of foreign wives, husbands, fiancés, and children of U.S. Army personnel.
In June 1946, a massive typhoon hit Taishan.
Chinese War Brides Act allowed the wives of Chinese American citizens to enter U.S. on a non-quota basis.
5,000-10,000 Chinese men returned to China; many to marry; many found empty houses because wives and children had died or fled. 8,714 Chinese immigrated to the U.S. between 1946-1950. 5,132 were wives of Chinese Americans.
Displaced Persons Acts granted permanent resident status to 3,466 Chinese students, visitors, and seamen who did not want to return to China.
U.S. Supreme Court ruled in the Kraemer Case that racial housing covenants were unconstitutional and legally unenforceable.
United States granted refugee status to 5,000 highly educated Chinese after China created a Communist government. This Central Intelligence Agency Act (CIA Act) encouraged Chinese scientists, engineers, and physicists to enter into the United States in furtherance of U.S. national security interests.
The People's Republic of China (PRC) was established by the CCP. Mao Zedong was the first president of the PRC. The Nationalists retreated to Taiwan and established the Kuomintang government.
Korean War began on June 25, 1950, when North Korea pushed into South Korea, and ended July 27, 1953.
Walter McCarran Immigration and Naturalization Act revoked the Asian Exclusion Act of 1924.
Refugee Relief Act offered unlimited immigrant visas to Chinese refugees along with those from other countries.
U.S. engaged in the Vietnam War.
Hundred Flowers Movement
A period where the Communist Party encouraged open expression was followed by anti-rightist movement.
Chinese Confession Program
The Immigration and Naturalization Service offer of legal status lured 11,336 willing paper sons, paper daughters and others to confess their illegal entry into the U.S. Some knowingly or unknowingly implicated 19,124 others. Some were deported based on this "evidence."
The Great Chinese Famine lasted 3 years and terminated the Great Leap Forward. 30 million Chinese starved to death.
Hiram Fong, Hawaii, was the first Chinese American elected to the U.S. Senate.
Kennedy Emergency Immigration Act (KEIA Act) permitted 5,000 Chinese immigrants to enter the United States during the period of China's "Great Leap Forward" movement.
Immigration and Nationality Act of 1965 rejected "national origins" as a basis for distributing immigration quotas among countries, created a new quota of 20,000 immigrants from any country, gave preference to skilled workers, and encouraged family reunification for individuals with family members who resided outside the United States.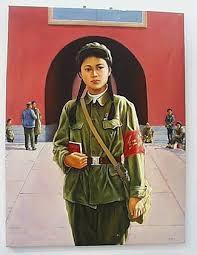 Chairman Mao Zedong purges rivals. Beginning of decade-long Cultural Revolution and the Red Guards. Disturbances took place in Hong Kong. 
Fair Housing Act of 1968 prohibited discrimination concerning the sale, rental and financing of housing based on race, religion, national origin or sex. Prior to this, racial housing covenants existed, which prevented minorities including Chinese from buying in certain neighborhoods.
"Asian American" coined by activist Yuji Ichioka to signify political solidarity in the U.S. among all ethnicities with origins in Asia. 
First Asian American political organization, Asian American Political Alliance, formed in Berkeley, California.
Third World Liberation Front at San Francisco State College began a five-month strike to demand a College of Ethnic Studies and other reforms.
Asian American Movement Era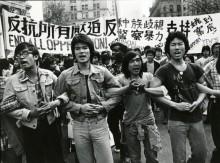 Photo courtesy of Corky Lee
A socio-political movement, which united people of Asian and Pacific Island ancestries in the U.S. to protest racism and U.S. neo-imperialism. Participants demanded ethnic studies curricula in colleges and universities, organized workers and founded organizations to provide social services to the poor, fought for housing rights, and organized protests against the Vietnam War.
In response to student protests, the first ethnic studies programs were established at San Francisco State, UC Berkeley, UCLA and UC Santa Barbara. In subsequent years, other campuses across the country implemented similar programs and departments.
New wave of Chinese immigrants moved to Monterey Park, the first Chinese suburban community or "Chinatown."
President Nixon visited Chairman Mao Zedong, signed the Shanghai Communique to improve U.S.-Sino Relations. Opened the door for Chinese Americans to visit China for the first time in 22 years.
More than 130,000 refugees from Vietnam, Kampuchea, Laos, and China, fleeing their native countries' Communist governments, entered the United States through the Indochina Migration and Refugee Assistance Act (IMRA Act). Many of them were of ethnic Chinese origin.
Long-separated Chinese American family members reunited as the People's Republic of China and the United States resume diplomatic dialogues. 
Taiwanese Relations Act gave Taiwan a separate immigration quota from mainland China, which resulted in greater numbers of Taiwanese immigrants to the United States. Influx of Taiwanese and Chinese nationals settled in communities east of Los Angeles including Monterey Park.
Refugee Act is signed into law by President Jimmy Carter which allowed refugees from Vietnam and Cambodia to immigrate to the United States. It raised the annual ceiling to 50,000 immigrants.
Anti-Chinese sentiment arose in the form of regulations requiring Chinese businesses to have signs in both English and Chinese.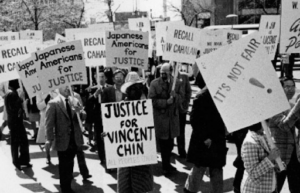 Photo courtesy of Corky Lee
The murder of Vincent Chin sparked national awareness of anti-Asian violence in America.
The nation's first female Chinese American mayor, Lily Chen, was elected in Monterey Park, California.
UK agrees to return Hong Kong to China at end of 100-year lease (1997) under the condition that HK retains some democratic independence but is set to expire in 2047.
Immigration Reform and Control Act (IRCA Act) legalized 300,000 undocumented aliens who have been living in the United States since 1982.
Monterey Park, a chartered city east of Los Angeles, became a destination for newer Chinese immigrants from Mainland China and Taiwan. Today, the first suburban "Chinatown" is comprised of 66.9% Asians and 47.7% Chinese. San Gabriel and Alhambra, along with Monterey Park is a minority majority region.
More Taishanese abroad than in Taishan.
Tiananmen Square protests occurred. 
President George H.W. Bush issued an executive order that permitted mainland Chinese scholars, students, and their families to permanently stay in the United States.
1990 Immigration Act modified and expanded the 1965 Immigration Act and significantly increased the total immigration to the United States to 700,000 per annum for the years 1992-1994, and 675,000 per year after that and increased visas by 40 percent. Although family reunification continued as a main immigration focus there are significant increases in the provisions for employment-based immigration and diversity.
Proclamation signed by President Bush, established May as Asian Pacific American Heritage Month (APAH).
Chinese Student Protection Act (CSPA Act) granted permanent resident status to nationals of the People's Republic of China who were in the United States after June 4, 1989 and before April 11, 1990. This Act gained passage partly as a reaction to the Tiananmen Square incident of 1989.
Illegal Immigration Reform and Immigrant Responsibility Act (IIRAIRA Act) increased INS enforcement operations, constricted basic rights of due process for immigrants, and reduced avenues for immigrants to legalize their status. Specifically this law denied social security benefits to aliens not lawfully present in the U.S.
Hong Kong was handed over from the British to China under a "one country, two systems" agreement set to expire in 2047.
Wen Ho Lee, a Los Alamos nuclear physicist born in Taiwan, was charged with mishandling classified nuclear data. Jailed for a year, all charges were dropped except for downloading weapons design to a non-secure computer.
Homeland Security Act established a new Department of Homeland Security, taking over almost all functions from the INS; it created the U.S. Citizenship and Immigration Services.
Judy Chu was the first Chinese American woman to be elected to the U.S. House of Representatives from California.
U.S. Census recorded 3.8 million ethnic Chinese in the country and 528,248 in the Los Angeles-Long Beach-Anaheim metropolitan area.
Gary Lock, Governor of Washington (1997-2005) was appointed United States Ambassador to China (2011-2014).
U.S. House of Representatives passed a resolution introduced by Congressman Judy Chu that formally expressed regret for the 1882 Chinese Exclusion Act.
President Obama's Deferred Action for Childhood Arrivals (DACA) policy allowed certain undocumented young people who came to the U.S. as children to stay.
As of April 30, 2019, 780 of approximately 669,000 DACA recipients were born in China or Hong Kong.
Umbrella Movement
Passive Hong Kong democracy protests using umbrellas as shields against pepper spray. On-going pro-democracy protests continue to the present.
The Chinese American World War II Veteran Congressional Gold Medal Act recognized the hardships and heroism of Chinese-American troops during WWII and authorized medals to be awarded to them.
2,455,200 immigrated to the U.S. from the People's Republic of China, including Hong Kong and Macau, 5.5% of all immigrants and 390,000 immigrants from Taiwan, 9% of all immigrants.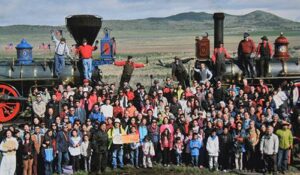 Reenactment of Golden Spike with Chinese Americans in the picture. (Photo courtesy of Corky Lee)
150th Anniversary of the Transcontinental Railroad commemorated the achievement of Chinese workers. The Central Pacific employed 12,000 Chinese, 4/5's of all workers were Chinese. More than 1,200 lost their lives.
Covid-19 Global Pandemic
The Covid-19 Global Pandemic sparked many incidents of xenophobia and anti-Asian racism. Travel restrictions of all foreign nationals prevented travel between China and the U.S. excluding Taiwan, Hong Kong, and Macao.
China's legislature passed plan to place further restrictions on Hong Kong in order to quash unrest and demonstrations.
Trump administration attempted to halt entry of all foreign nations into the U.S. by prohibiting graduate students from Chinese universities with suspected ties to or funding from China's military. Stuart Kwoh, Asian Americans Advancing Justice- Los Angeles, called this action "the new Chinese Exclusion Act."
Hundreds of on-going demonstrations across the U.S. are sparked by the killing of George Floyd, a Black American, by police in Minneapolis. Protesters were multi-ethnic including many Asian Americans.
Asian Pacific American Historical Timeline Details http://us_asians.tripod.com/timeline-overall1.html.  Click on year for details- 1400s to 1899; click on left red side bar for other years to 2005.
Asia for Educators, Columbia University http://afe.easia.columbia.edu/special/china_1750_taiping.htm
Bridging the Centuries: History of Chinese Americans in Southern California. Book produced and sold by the Chinese Historical Society of Southern California https://store.chssc.org.
Hsu, Madeline Y. Dreaming of Gold, Dreaming of Home: Transnationalism and Migration between the United States and South China, 1882-1943. Stanford, CA: Stanford Univ. Press, 2000.
Maeda, Daryl Joji. "The Asian American Movement," Oxford Research Encyclopedia of American History. Published online, 2016. 
https://oxfordre.com/americanhistory/view/10.1093/acrefore/9780199329175.001.0001/acrefore-9780199329175-e-21
Smith, Icy. The Lonely Queue, The Forgotten History of the Courageous Chinese Americans in Los Angeles, East West Discovery Press. 2001
Survey LA- Los Angeles Citywide Historical Statement- Chinese Americans in Los Angeles, 1850-1980  
https://planning.lacity.org/odocument/8481e27d-2d93-431e-a201-7cb6bedc3029/SurveyLA_ChineseAmerican_Oct2018.pdf